TRENDnet is dedicated to creating innovative, easy-to-use and reliable networks that customers trust (Networks People Trust™).
TRENDnet's solutions network countless devices to help you live and work connected.
TRENDnet has been creating award-winning networking solutions since 1990, connecting you to what matters most to you.

Since its foundation in Torrance, California, TRENDnet has developed into a leading global network hardware brand.
From the base of a network to its peripherals, TRENDnet's extremely extensive product portfolio includes mainly the categories of high-performance AV switches, industrial switches / solutions, WLAN PoE solutions, surveillance cameras, NVR surveillance systems and powerline solutions.
Power Your Business Solutions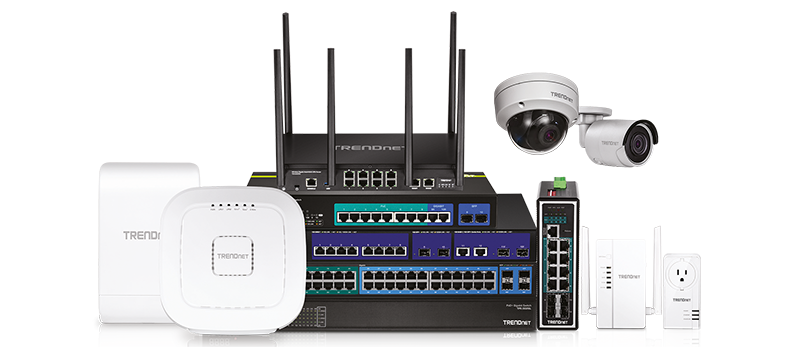 TRENDnet products have an excellent price-performance ratio with multiple award-winning product ranges and proven reliability, outstanding product quality, comprehensive after-sales service, pre-sales engineering support and first-class technical support.
All new products of the brand TRENDNET
Save money with Power over Ethernet
Save setup costs by transmitting power and data via Ethernet cables to PoE devices, such as IP cameras and access points. PoE delivers up to 15.4 watts of power per port; PoE+ delivers up to 30 watts of power per port. The benefits of PoE include lower installation costs, faster setup, flexibility for remote installations, cost savings for electricians not required, network scalability and managed controls.
TRENDnet's extensive portfolio allows you to offer your customer the optimal switches for their needs. Managed switches have managed controls such as VLAN support, PoE controls, traffic analysis and multicast support. Unmanaged switches only increase port density. PoE delivers both power and data over Ethernet cables. PoE delivers up to 15.4 watts of power per port; PoE+ delivers up to 30 watts. Gigabit switches are more scalable; 10/100 switches are more economical. Metal switches are more durable, but plastic switches are a more cost-effective solution.
TRENDnet has an extensive switch portfolio, including unmanaged switches, Web Smart, Layer 2, 10GBit, PoE/PoE+, AV and industrial switches. It depends on the customer needs which solutions you offer. Whether for the home, SOHO, in the AV segment, or for large customers, TRENDnet has the right switch. Even in the industrial sector for particularly demanding and weather-sensitive tasks, TRENDnet has the right solutions at hand.
High performance AV switches
High-performance AV switches feature an LED indicator on the front of the unit that shows the total PoE budget, remaining power and power consumption per port. Outlets on the back of the unit for better cable management and easy integration into your AV rack, strong overall PoE performance and PoE support make daily work easier. Complementary devices include AV equipment, video encoders and decoders, audio distribution systems, IP surveillance cameras and wireless access points. Common applications include restaurants and pubs, homes with AV in multiple rooms, TV/radio broadcasting, company premises and universities.
Industrial Switches / Solutions
Rugged industrial networking solutions. TRENDnet's industrial switch and fibre optic solutions provide reliable and hardened networking hardware for extreme environments, including environments with extreme temperatures or high levels of dust and dirt particles. TRENDnet's industrial switch solutions offer IP30/IP40 rated enclosures for severe temperature cycling, fibre optics for long distance networking and latency, and are ideally suited for use with outdoor surveillance solutions. Industrial switches are often used in conjunction with NEMA cabinets (cabinets not available from TRENDnet).
WLAN PoE solutions
Wireless PoE Solutions. TRENDnet offers you Wireless PoE Solutions for outdoor use as well as for outdoor use. Expand your indoor network with high-performance indoor PoE access points, and connect buildings to each other easily with TRENDnet outdoor access points. Especially for your customers who want to connect different office or hotel buildings on one site, the WLAN PoE solutions from TRENDnet are the perfect solution.
Surveillance Cameras
The extensive IP camera surveillance range from TRENDnet allows you to find the right camera for your project at any time. The Ultra and HD cameras are suitable for outdoor and/or indoor use. With the cameras you receive a management software with numerous functions which can be upgraded to enterprise level. Mobile applications are also available. Different camera features such as PoE, wireless, optical and/or digital zoom, varifocal lenses, speed dome, motorised dome/PTZ, 4MP and night vision are available. The extensive selection of TRENDnet surveillance cameras allows you to implement even complex customer requirements.
NVR surveillance systems
With TRENDnet's NVR surveillance system, you can easily manage your surveillance network within a single interface. TRENDnet's NVRs are designed to work seamlessly with TRENDnet IP cameras; assemble the products into the solution that meets your or your customers' needs. Reduce power consumption to save on electricity costs by eliminating the need to run a computer continuously with expensive camera management software. With TRENDnet's NVRs, large amounts of recordings from different cameras can be easily stored centrally. For home, retail, office, small business, car park and complex solutions, TRENDnet has the right products.
Powerline solutions
Powerline adapters use the existing power cables in your home or business to create a network or expand your existing network. The TRENDnet powerline adapters are a cost-effective solution that allows your customer to expand their network without having to run additional cables. These adapters are especially useful for buildings with stone walls that are difficult for Wi-Fi signals to penetrate. Connect a TRENDnet Powerline Adapter to a router and plug another Powerline Adapter into the desired outlet to create or expand a high-performance wired network. You can use up to 8 TRENDnet Powerline Adapters together.
Robust industrial network hardware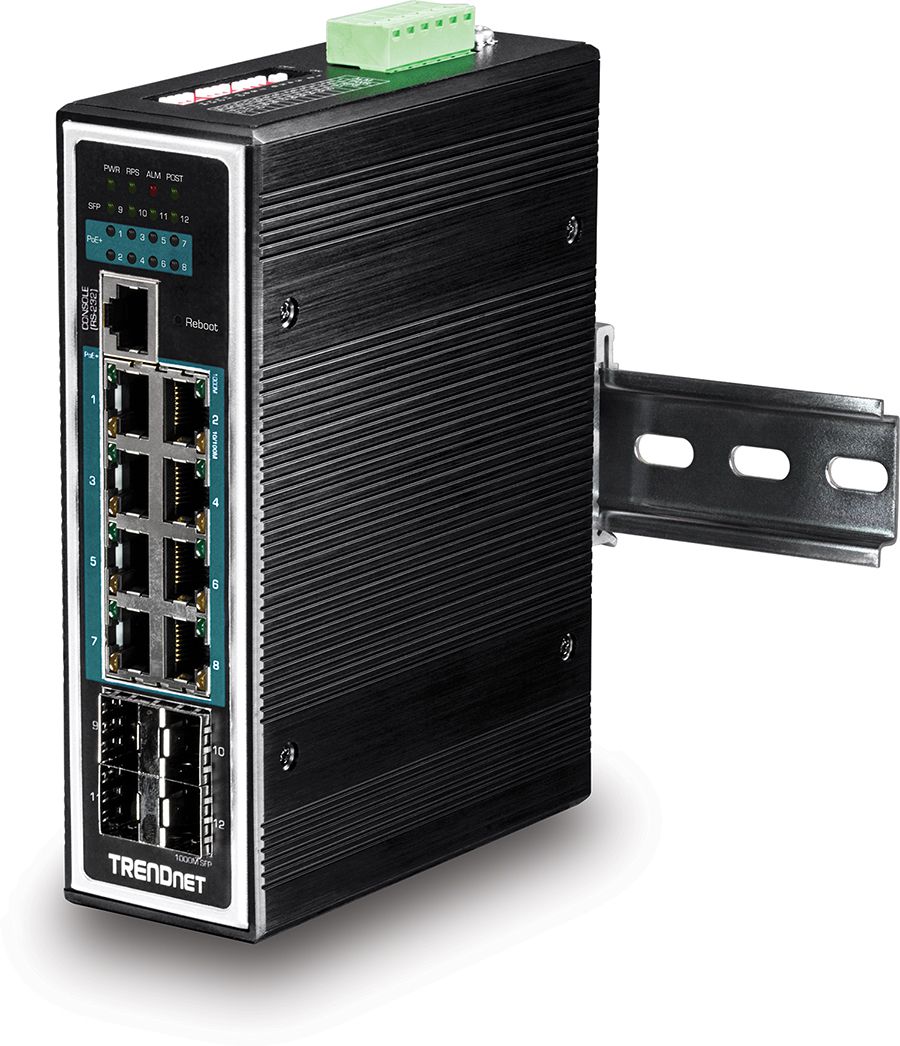 Hardened switches and fibre optic solutions
TRENDnet's range of industrial switches and fibre solutions provide reliable and hardened networking solutions for extreme and harsh industrial conditions. TRENDnet's industrial networking products feature IP30 (or IP40) rated metal enclosures and industrial grade components designed to withstand wide temperature variations in both hot and cold weather conditions, environmental debris and severe shock and vibration, as well as providing protection against ESD, EMI and overload.
TRENDnet's industrial switch and fibre solutions are ideal for use with outdoor surveillance cameras. Outdoor surveillance systems require additional features compared to indoor solutions in order to consistently withstand temperature and weather fluctuations.
TRENDnet's industrial solutions are especially ideal for areas where temperature and weather can vary greatly within the same day, week or month. Once you have set up your monitoring systems, it is very unlikely that you will want to change hardware every time the weather changes.
Like standard network switches, industrial switches are available in a variety of designs with different features to best suit your needs. TRENDnet offers standard non-PoE switches as well as PoE, PoE+ and UPoE switches, and managed and unmanaged switches.
UPoE
With 60 watts of power, the Ultra PoE category delivers twice the power of the current IEEE 802.3at standard and is better suited to meet the high power requirements of today's network devices. With a much higher power capacity, TRENDnet's Ultra PoE product range provides uninterrupted service and network connectivity, especially for critical network applications.
TRENDnet's 6-port hardened industrial Gigabit Ultra PoE DIN-rail switch, model TI-UPG62, has high-performance capacity with a total PoE power rating of 240 watts, providing enough power for even the most demanding networking and surveillance applications. This UPoE industrial unmanaged switch has four Ultra PoE ports and two dedicated SFP slots for long distance fibre networking (without reducing port density).
Variable voltage
Variable voltage allows the use of 12V and 24V low voltage power supplies found in most industrial applications today instead of the usual 48V required for most PoE power supplies. Variable voltage gives installers and integrators more flexibility for installations and applications.
TRENDnet's 6-Port Industrial Gigabit PoE+ DIN Rail Switch 12 - 56V, model TI-PG62B, provides four Gigabit PoE+ ports and two dedicated SFP slots with a total PoE+ power rating of 60-120W. Fault tolerance is ensured by the dual redundant 12-56VDC power supply with an output alarm relay that is triggered in case of power failure/failure of the primary and/or redundant power supply.
Fibre Optic Converters & SFP Modules
Fibre optic connections are ideal for long distance networking applications, while adding an extra layer of protection to your network. Fibre optic connections do not radiate signals and are therefore extremely difficult to intercept compared to copper Ethernet cables.
Fibre is also ideal for industrial environments with strong electromagnetic interference (EMI). Fibre is insensitive to EMI and radio frequency interference (RFI). Signal loss is minimal because fibre optic signals are made of light and there are no crosstalk or impedance problems.
TRENDnet's cost-effective fibre optic network solutions enable businesses of all sizes to take advantage of these benefits. TRENDnet's fibre converters deliver power to PoE, PoE+, and/or UPoE compliant devices such as IP cameras, VoIP, phones and wireless access points, while converting fibre to copper Ethernet. TRENDnet offers a wide range of industrial fibre converters, including a multimode SC fibre converter, a single mode SC fibre converter, and many more.
SFP modules (or mini-GBICs) are designed to provide fibre connectivity through your network switch. Look for industrial switches that have SFP ports, such as TRENDnet's 6-port hardened industrial Gigabit Ultra PoE DIN-rail switch, model TI-UPG62 or the 12-port hardened industrial Gigabit PoE+ Layer 2+ managed DIN-rail switch, model TI-PG1284i.
Most of TRENDnet's industrial switches have at least one SFP port for fibre connections. TRENDnet's industrial switches offer either dedicated SFP slots or shared SFP slots. For switches that share ports, only one function can be used at a time.
Power supply
Unlike standard network switches, industrial switches do not normally have a power supply. There are some industrial switches that have the power supply built in, but as each job may have different power requirements, you will need to purchase a power supply that is best suited to your needs.
Some applications run industrial switches off a 12V battery, and some industrial applications use 12V power only. In addition, many DIN rail applications already have a power supply. Because power requirements vary, and to keep overall hardware costs down, TRENDnet's industrial switches and their necessary power supplies are available separately.
NEMA control box
Industrial switches and their power supplies are often used with a ventilated NEMA power control box for outdoor applications and protection from moisture. These NEMA control boxes can be custom made and are available in various sizes and shapes to suit your particular industrial application.
There are several types of NEMA enclosures, and each type of enclosure is designed for a specific purpose, to withstand a specific weather pattern or environment. The standards for NEMA enclosures are set by the National Electrical Manufacturers Association in North America, which regulates the various classes of electrical enclosures and cabinets.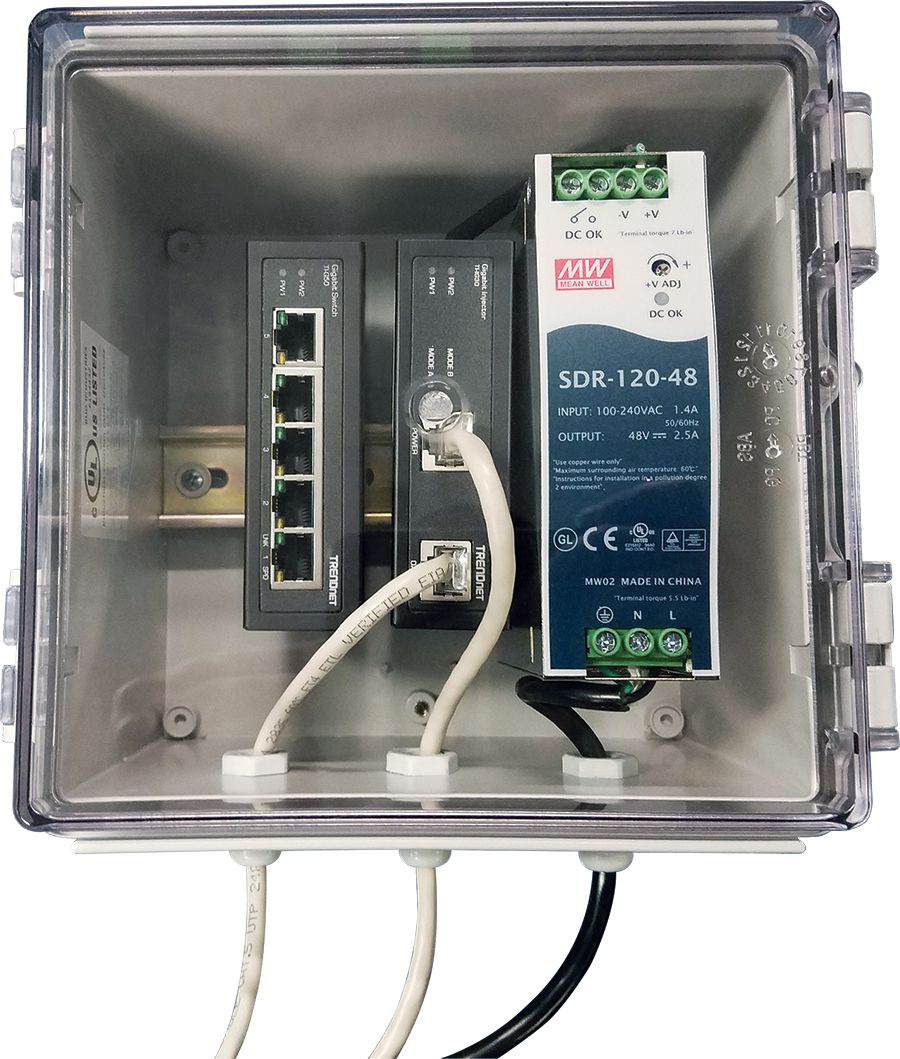 All products of the brand TRENDNET