Simply better connections is the guiding principle of the ATEN brand philosophy
This means providing you with innovative solutions so you can create better, more efficient and seamless connections to the data or people that matter to you.
ATEN connects you to the rest of the world anytime, anywhere, so you can share information and engage in what matters to you.
In both your professional and personal life, ATEN makes everything easier, more straightforward and better connected.

Founded in 1979, ATEN specialises in connectivity and management solutions and technologies for single and shared access to IT systems. ATEN has unified all of its products and services under a single brand - ATEN - setting an efficient and consistent service benchmark globally.
The ATEN brand offers consumers, freelancers, sole traders, small and medium-sized businesses to large global enterprises a comprehensive product portfolio that includes innovative solutions in connectivity, professional A/V systems and green energy.
ATEN's solutions for freelancers, sole proprietorships and small and medium businesses include wired KVM, desktop KVM and LCD KVM systems. Solutions for large enterprises include various over IP systems that allow customers to efficiently manage their entire IT infrastructure from any location worldwide. The professional A/V solutions product range includes integrated image transmission systems for home and professional use, business, education, medical, retail and home theatre applications.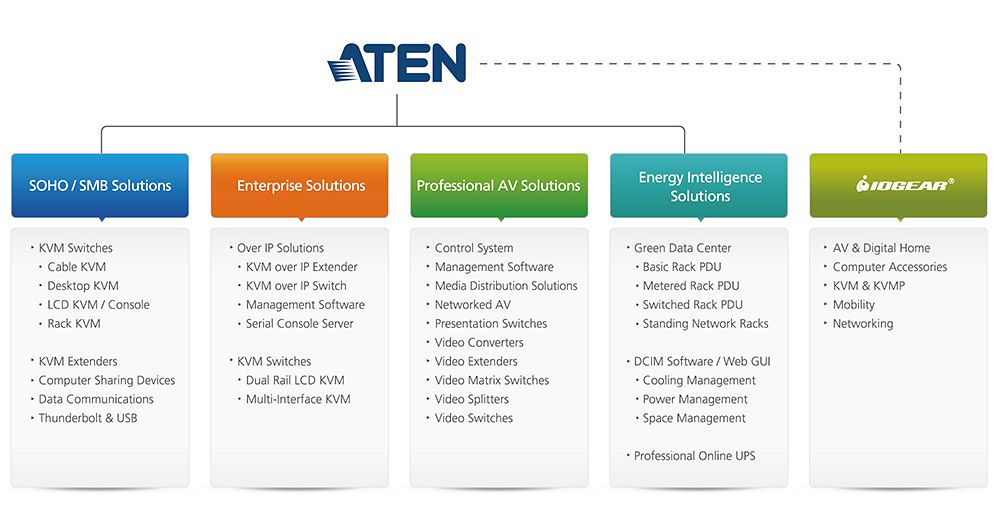 All products of the brand ATEN